Description
Registration NOW OPEN for Exhibitors and Sponsors
This is a great event to get your products and services in front of the Chiropractic community! This is a licensing year for the doctors, which means we expect strong attendance. This means better opportunity for you! There will be a limited number of exhibitor booths available.
Hours for exhibitors are as follows:
Set up: Thursday, October 28, 2021 2pm - 5pm

Friday October 29, 2021- expo hall open from 7:00am-5:30pm

Saturday October 30, 2021 - expo hall open from 7:00am - 6:30pm

Sunday October 31, 2021 - expo hall open from 7:00am - 10:30am
Exhibitor Booths
Become and Exhibitor at Colorado's Premier Event for Chiropractors!
We have exhibitor booths available inside and outside the expo hall. Forced traffic through the exhibitor hall ensures traffic around your booth!
Due to current Public Health Orders on indoor events - the number of booths will be limited and available on a first-come, first-served basis. Booths will be assigned randomly.
Exhibitor Booth - Inside Expo Hall
$1,100 - Early Bird pricing ends June 30, 2021
$1,300 - Regular Price starts July 1, 2021
Exhibitor Booth - Outside Expo Hall
$950 - Early Bird pricing ends June 30, 2021
$1,100 - Regular Price starts July 1, 2021
View Booth Area HERE
Location
Hyatt Regency Aurora-Denver Conference Center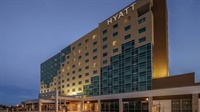 13200 E 14th Pl, Aurora, Colorado 80011, United States
(303) 365-1234
www.hyatt.com